Frequently Asked Questions
How do know how much CBD to take?
---
Each person's endocannabinoid system works differently and reacts differently. There is no straight, solid scientific dosage that states how much CBD you should be taking at any one time. Always start off with a small dose and work your way up to a larger dose. Your weight determines the best quantity as well as the quality of the CBD oil. Please view the chart showing body weight and dosage recommendations.
---
Are the products tested on animals?
---
No animals has been harmed in any way by any of the products that we sell. We are 100% for animal welfare and preservation of the worlds natural resources. Green Skincare, because we don't have a planet B !
---
How can I trust the quality of the CBD?
---
All of the products have undergone rigorous testing in a laboratory to determine their content of CBD, THC, pesticides, residual solvents, bacteria and any other nasties that may be present in the cannabis crop. This certificate is called a COA and is available for each and every product. The products are made from Full-spectrum CBD, also known as "whole plant CBD" because the nutrients are extracted from the entire plant. The whole plants contains hundreds of terpenes, cannabinoids, antioxidants, vitamins, and nutrients. Full-spectrum is scientifically proven to provide more nutrients and benefits than CBD isolate.
---
What is CBD?
---
CBD (Cannabidiol) is a chemical compound that comes from the cannabis Sativa plant. There are at least 113 unique compounds found in cannabis known as cannabinoids, of which, CBD is the second most abundant. Unlike its cousin, delta-9-tetrahydrocannabinol (THC), which is the major active ingredient in marijuana, CBD is not psychoactive. CBD oil used has been through an extraction process to remove THC.​Cannabinoids can be either consumed (phyto-cannabinoids) or they are produced by the our bodies (endocannabinoid). These chemical compounds interact with the body's central regulatory system. This system is known to maintain a condition of balance or equilibrium within our internal environment and affect bodily processes such as appetite, mood, sleep and immune system functions.
---
What is the Human Endocannabanoid System and how does CBD work?
---
The Human Endocannabinoid System​ CBD and THC fit like a lock and key into existing human receptor cells. These receptors are part of the endo-cannbinoid system which impact physiological processes affecting pain modulation, memory and appetite plus anti-inflammatory effects and other immune system responses. The endocannabinoid system comprises of two types of receptors, CB1 and CB2, which serves distinct functions in human health and well-being.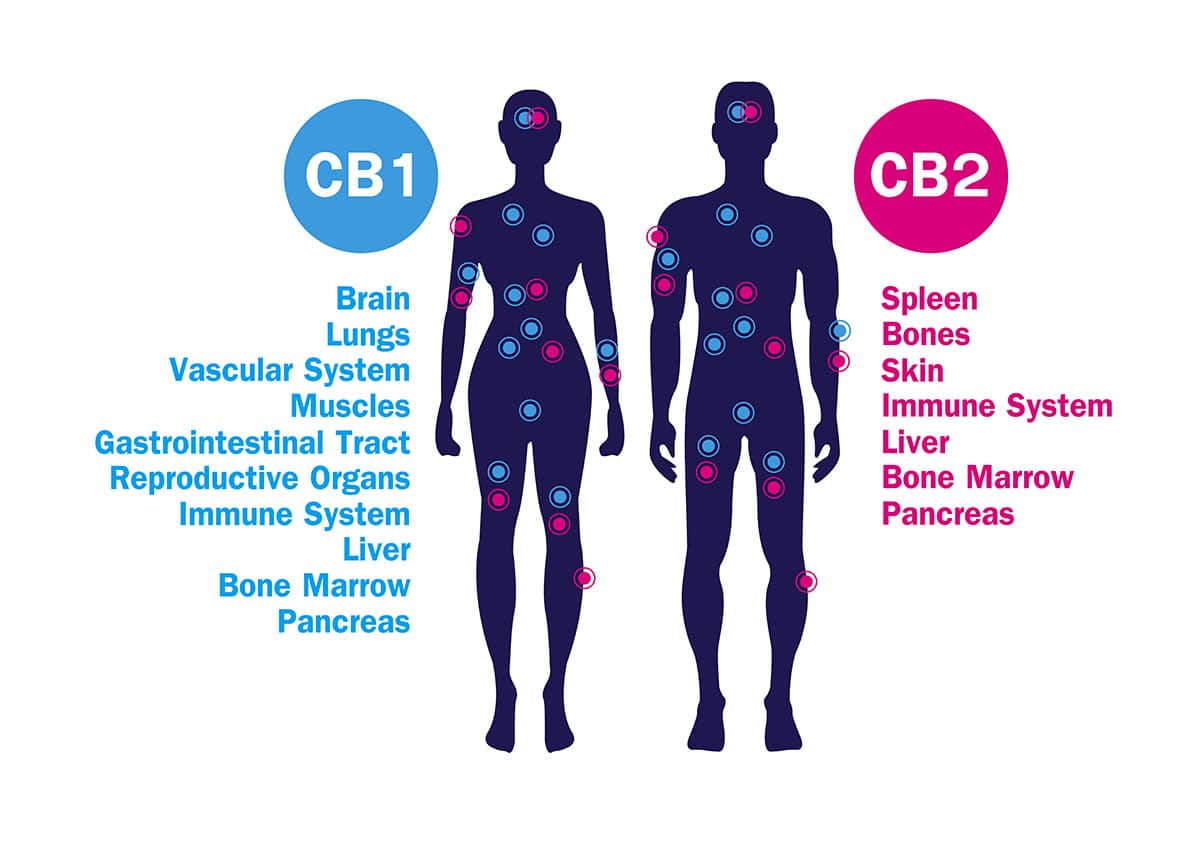 CB1 receptors are primarily found in the brain and central nervous system, and to a lesser extent in other tissues. CB2 receptors are mostly in the peripheral organs especially cells associated with the immune system.
---
Is CBD Safe?
---
Absolutely. CBD oil that is produced using hemp plants is 100% legal to buy and consume in the UK. The law, passed in January 2017, states that you can buy and use CBD oil derived from hemp if it contains less than 0.2% THC and which is then purified to contain less than 1mg per dose.
---
Is CBD legal in the UK?
---
CBD is completely legal as long as the product contains less than 0.02% THC or below 1mg per container. It is no longer a controlled substance and no restrictions on the way its consumed or utilised. The introduction of the Novel food Licence in March 2021, is good news for the industry and will ensure that all consumers only consume products that meet the strungent requirements og the Novel Food Licence.
---
---
---
---